An evening of Traditional cross cultural music with a definite Irish tilt
Tim O'Connor and Paul Daly
Tim O'Connor has carved his own path and built a strong reputation as an independent Singer and songwriter and a great live performer. A Troubadour for the 21st century with an eclectic musical melting pot of songs. (Melodic, lyrical, Folky rock n roll) a cross cultural adventurer.
Tim's Music is influenced by a myriad of musical styles woven into insightful, heartfelt contemporary yet age old sounding songs, drawing influence from The Beatles, Dylan, Van Morrison, Tom Waits, Johnny Cash and traditional Irish Music.
Tim met Flute player Paul Daly in Bordeaux in 1994 and the two have them have since played many gigs and festivals throughout the world including the
Cultural Center in Sao Paulo (Brazil), Musicport Festival (UK), Zamek folk festival (Poland), Johhny Ds Club (Boston) Marche des Continents festival (France) Cloggs Gallagher festival (Ireland) Hebden Bridge Arts festival (UK) amongst many others:
Paul Daly comes from "Flute playing country" Ballaghadereen in Roscommon to be precise and he is renowned as both a fine traditional player and a great improviser, a quality that he uses to the full on Tim's songs.
Tim and Paul have a great live vibe and have an eclectic style, a few years ago Tim and Paul met up and recorded with Toureg Musician Danto Aya (See review)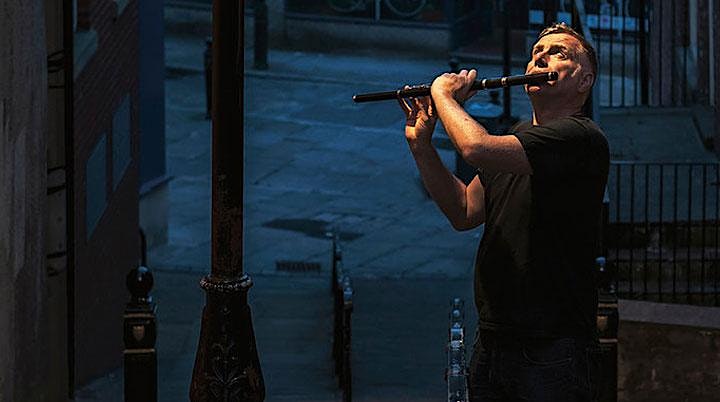 Michael Walsh
Flute player Michael Walsh was born in Manchester and raised in Stockport, where he began to play Sligo style. 'QuareHawk' the word is Irish slang for an odd or weird person;
No wonder he chose the phrase to title his brilliant debut album. It's focus is like its title, distinctive and certainly from the leftfield.
The music of Asturias is another thread in Michael 's musical journey. The connection comes from Michael spending time in Asturias and for the last 4 years taking a PhD in identity, nationalism and music in the contemporary Asturian folk scene in northern Spain
Michael is now a denizen of Sheffield